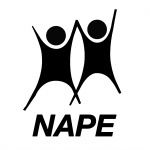 Hello and welcome to the first National Association for Primary Education podcast.
Who are NAPE?
The National Association for Primary Education speaks for young children and all who live and work with them.
Our aim is to achieve a higher priority for the education of children from birth to 13. High quality learning in the early years of life is vitally important to the creation of an educated society. Young children are not simply preparing for the future, they are living a never to be repeated time of life and the best way to learn is to live.
THE WAY WE WORK FOR PRIMARY EDUCATION
The National Association for Primary Education (NAPE) brings together everyone who has a concern for the learning of children from birth to 13 years. Members and affiliated schools work to improve education through the Early, Primary and Middle Years.
All are welcome as members; Heads, Teachers, Teaching Assistants, Parents, School Governors. Inspectors, Administrators and entire School Communities.
Members have an important voice exercised democratically. We influence public opinion and are consulted by government. The association is totally neutral politically.
There are meetings of members both locally and nationally. Local associations can be formed.
Conferences and workshops are arranged both locally and nationally.
The association is administered by an elected National Council meeting termly to review progress and discuss national issues. Detailed administration is delegated to an Executive Committee which reports to the Council.
NAPE is an active member of the Primary Umbrella Group (PUG) which comprises some 30 of the voluntary associations and unions working in the primary field. NAPE, alongside the professional associations, is actively engaged in co-ordinating future meetings of PUG.
All aspects of education are experienced by children in their primary schools and we have strong links with subject associations.We often engage in cooperative ventures with them.
NAPE are part of the More Than a Score alliance.