Trivial Warfare with Jonathan Oakes. LF008
Jonathan Oakes joins me on the Learning on Fire podcast and explores the most important learning and educational moments that shaped his life.
Our guest – Jonathan Oakes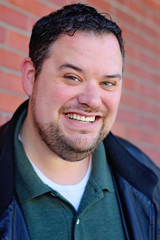 Jonathan's passion for trivia led him to create Trivial Warfare one the worlds leading podcasts in that niche.
So far Jonathan has combined this passion with a successful career as an IT manager. But as the show goes from strength to strength you can find out how by following his dream Jonathan now has the opportunity to do the thing he loves the most full time. However the real story is that by doing this, he is creating a community of likeminded people which is a world apart from his experience as a youngster.
Jonathan has a B.S. in  Communication and a recently earned MBA. On Trivial Warfare he specializes in History, Sports, Mythology, and Presidents.
In this interview Jonathan discusses how the things that are painful in the early part of your life can become the things that give you the most growth and understanding as you mature. This awareness can become a gift to show you who you truly are.
"Even if it is the end of something it doesn't necessarily mean it is the end of everything"
Questions asked on the Learning on Fire Podcast Interview
Who are you?
What does your life look like now and how is it different from when you were growing up?
What was valuable about your school experience?
Which teachers do you remember and why?
Who did you admire when you were young?
What was it about that person that had such an impact?
What was the best piece of advice you have ever been given and who gave it to you?
What advice would you give your younger self?
What does your future look like?
What podcast, book, video, film, song or other resource has had the biggest impact on your life and why?
Resources Mentioned
How to Win Friends and Influence People – Dale Carnegie
Contact Information