Live your truth with Rick Clemons. LF006
Rick Clemons joins me on the Learning on Fire podcast and explores the most important learning and educational moments that shaped his life.
Our guest – Rick Clemons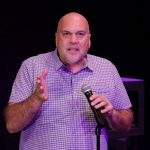 Rick started his career in the hotel industry in the Southwest USA. He moved to California with his wife and 2 children and changed direction slightly to hospitality operations and then hospitality technology.
What follows is an emotional story of massive life change in both his personal and professional life. He opens his heart in this interview and shares some of the most inspiring wisdom that is a pure gift. You will discover what living your truth truly means and how time, patience and acceptance are key.
Rick now inspires corporations, entrepreneurs, college and university students, and individuals to make their bold moves. His keynote speeches, workshops, coaching, and podcasts touch people's souls, ignite their desires, and help them breakthrough the taboos of living by other people's expectations.
Questions asked on the Learning on Fire Podcast Interview
Who are you?
What does your life look like now and how is it different from when you were growing up?
What was valuable about your school experience?
Which teachers do you remember and why?
Who did you admire when you were young?
What was it about that person that had such an impact?
What was the best piece of advice you have ever been given and who gave it to you?
What advice would you give your younger self?
What does your future look like?
What podcast, book, video, film, song or other resource has had the biggest impact on your life and why?
Resources Mentioned
The Subtle Art of Not Giving a F – Mark Manson
Contact Information