LifeSkills created with Barclays. LF052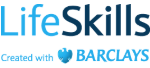 Kirstie Mackey joins me on the Learning on Fire podcast and explores the most important learning and educational moments that shaped her life.
Kirstie Mackey, Head of LifeSkills created with Barclays
What is LifeSkills?
LifeSkills created with Barclays, have one single-minded ambition – to inspire young people to get the skills they need for a better future. And that's what we do. Not just online, but in class and through valuable real-world experiences.
LifeSkills works with teachers, parents and businesses to help young people:
Build a job-hunting toolbox
Find out how social media can supercharge a CV, get tips for creating strong covering letters and LinkedIn profiles, and practice interview techniques.
Identify skills
Interactive challenges help identify and develop personal skills – with useful advice on selling these skills to employers.
Gain experience
Offered by businesses, organised by teachers and driven by young people – by working through LifeSkills online, they'll unlock valuable work experience.
Questions asked on the Learning on Fire Podcast Interview
1. Who are you?
2. What does your life look like now and how is it different from when you were growing up?
3. What was valuable about your school experience?
4. Which teachers do you remember and why?
5. Who did you admire when you were young?
6. What was it about that person that had such an impact?
7. What was the best piece of advice you have ever been given and who gave it to you?
8. What advice would you give your younger self?
9. What does your future look like?
10. What podcast, book, video, film, song or other resource has had the biggest impact on your life and why?
Website
https://barclayslifeskills.com
Resource mentioned
To find out more about the Education on Fire Podcast Network please visit