059: Syncphonia – Replace paper scores with a digital system for your tablet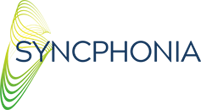 Designed and refined over two years, working with amateur and professional ensembles, Syncphonia replaces paper scores with a digital system which synchronises to the beat of a conductor or lead musician. The current bar and beat are highlighted, so players can't get lost, pages are turned automatically, and new parts can be distributed in seconds over a wireless network.
Syncphonia provides seamless, intuitive technology to enhance the experience of ensemble performance for all.
The Syncphonia system features:
Conductor-controlled, synchronised digital notation for ensemble scores and parts
Library of 8 scores, with parts for all abilities
Hands free page turns, with look ahead, so you know what's coming next
Low latency bluetooth networking
Conductor app allows you to:
Organise and manage your orchestral library
Share new parts across the ensemble in seconds
Intuitively and expressively control tempo
User metronomic tempo control for rehearsals
Jump to bar or figure
Performer app features:
Dynamic position highlighting so you never get lost
Instant selection between available instrumental parts
Preview page scroll during rehearsal downtime
Find out more at http://www.syncphonia.co.uk
twitter: @syncphonia
https://itunes.apple.com/us/app/syncphonia-conductor/id1267828984?mt=8
https://itunes.apple.com/us/app/syncphonia-performer/id1267918984?mt=8
https://www.amazon.co.uk/Syncphonia-Performer/dp/B0761YBRQD/ref=sr_1_1?s=mobile-apps&ie=UTF8&qid=1507546744&sr=1-1&keywords=syncphonia