025 : AbilityNet – Tech4Good Awards with Mark Walker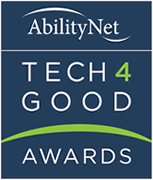 Now in its 6th year, the AbilityNet Tech4Good Awards recognise organisations and individuals who use digital technology to improve the lives of others.
The awards were created by AbilityNet with the help of BT and a number of businesses, charities and non-profit partners and sponsors, because we want to know about companies that are utilising the empowering influence of digital technology – whether it's at home, at work, in education. Access to the digital world can be life changing.
https://www.tech4goodawards.com
https://www.tech4goodawards.com/enter-now/bt-young-pioneer-award/
https://www.tech4goodawards.com/enter-now/comic-relief-tech4good-africa-award/
https://www.abilitynet.org.uk – Tel 0800 269545
https://www.goodthingsfoundation.org
Education on Fire – Apps for Good Interview