Choose to live your life in gratitude with Georgian Benta. LF 003
Education on Fire - A community of creativity
Get the latest podcasts, blogs, exclusive offers and resources
Georgian Benta from the Gratitude Podcast joins me on the Learning on Fire podcast and explores the most important learning and educational moments that shaped his life.
Our guest – Georgian Benta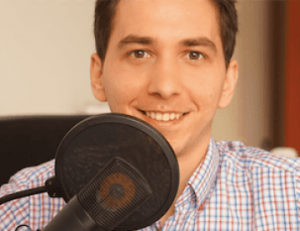 Most of us have to make a conscious effort to be grateful, we need an experience or some contrasting story that we hear about to remind us that we can be grateful and that we really should be.
My goal with this project is to inspire those that find it harder to be grateful, to choose to live a life filled with gratefulness or at least to get a boost of this amazing feeling when things don't seem to go the right way.
My vision is to inspire 100,000 people to focus on gratitude and on what makes them grateful in their life. Help me spread the word and share what you find on this blog with your friends and family, with the ones that need it most.
Questions asked on the Learning on Fire Podcast Interview
Who are you?
What does your life look like now and how is it different from when you were growing up?
What was valuable about your school experience?
Which teachers do you remember and why?
Who did you admire when you were young?
What was it about that person that had such an impact?
What was the best piece of advice you have ever been given and who gave it to you?
What advice would you give your younger self?
What does your future look like?
What podcast, book, video, film, song or other resource has had the biggest impact on your life and why?
Resources Mentioned
Man's Search for meaning – Viktor E Frankl
Conversations With God – Neale Donald Walsch
Contact Information
Twitter: @GeorgianBenta
Facebook: https://www.facebook.com/TheGratitudePodcast/
Website: http://www.georgianbenta.com